A Midsummer Night's Dream and Crystal Ice Cream Fantasy
Saturday, June 23, 2018 5:00 pm - 9:00 pm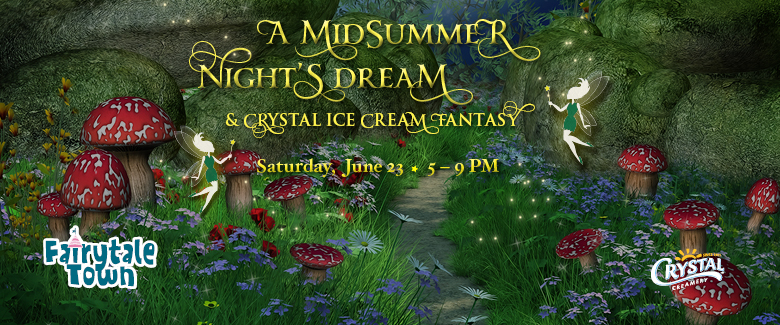 Description:
Shakespeare's popular fairy-themed comedic play comes to life at Fairytale Town, along with all-you-can-eat Crystal ice cream! Join us for a magical midsummer's eve featuring multiple ice cream tasting stations, live entertainment, hands-on activities, an enchanted marketplace and more!

Celtic band Stepping Stone will perform throughout the evening on the outdoor Mother Goose Stage, and Shakespeare Lite will present Pyramus and Thisbe from A Midsummer Night's Dream in the Children's Theater at 6, 7 & 8 PM. Theater performances are free but seating in the theater is limited.

Sample delicious Crystal Creamery ice cream flavors at stations around the park. Pick up dinner from the Dish & Spoon Cafe or a featured food truck. Squeeze Inn and Slightly Skewed food trucks will be in the park during the event. Bottom's Up Tavern will be open with wine and beer available for purchase.

Renaissance or fairy themed costumes for the whole family are strongly encouraged. Check out our Pinterest board for costume inspiration.

Please note:

A Midsummer Night's Dream & Crystal Ice Cream Fantasy is a special ticketed event.
No outside food or drink.
Fairytale Town will be closing at 2 PM the day of the event in order to prepare for the evening's festivities.