Meet our KUBU Producers
Click here to DONATE to Access Sacramento and help us continue to give a voice to Sacramento!
Thank you!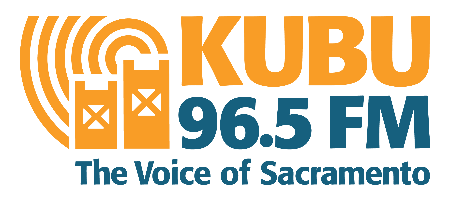 Meet our KUBU Radio Producers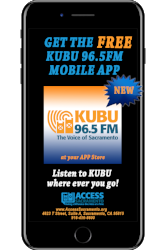 Welcome to KUBU LP-FM 96.5 where we let yoU Be yoU on the Radio.
Here you can learn about some of our Radio Producers. They will share insight into their program and their schedule.
Below is a brief description of our KUBU radio programs for your listening pleasure. There are many more but here are a few to get you going. You can listen to our radio programs by changing you TV audio to the S.A.P. Cable Channels 17 & 18 or 96.5LP - FM on your car radio (within a 10 mile diameter of Sacramento) or go to our website at www.accesssacramento.org and click on the Radio icon either on the home page (scroll down a little) or go to the Radio page and click on the icon and then click on the play button.
If you are a KUBU producer and would like your show and website to be listed please forward the information about your program (day/time, picture and brief description)to the KUBU Radio Director email address: scarpenter@accesssacramento.org with the subject line of "KUBU program information".
ATTENTION: Please keep in mind that we are not responsible and do not control information on the show web sites. Show Producer is responsible for content as outlined in our Rules and Regulations. We hope you enjoy this and learn about other programs that may catch your interest. Have a comment or feedback send to Postmaster@AccessSacramento.org.
Thanks for listening to locally produced Radio on KUBU LPFM 96.5
A - B - C - D - E
(60s & 70s music)
Hear your favorite classic hits from the 60's and 70's every Wednesday. From the Animals to the Zombies, it's Bobby James with all the best American Hits!
www.facebook.com/SacramentoAIRS?fref=tsProg

Wednesdays 10am – 11am

ALTERNATIVE RADIO - Tuesdays 3:00pm

BACK ROADS BLUEGRASS - Mondays 12:00pm - 1:00pm

BECAUSE PEOPLE MATTER - Thursdays 12:00pm - 2:00pm

CALLIS UNIDAS

CANNABIS CAFE

"CAPITAL CITY RADIO" Hosted by Alexander Vasquez (Commentary)
"Vasquez on the Voice", hate radio you love with public affairs, interviews, events, radio activism, oral history, and of course, commentary.

Wednesdays 10pm – 12:00am

CLIMATE REPORT

CONTINENTAL BREAKFAST - Saturdays 10:00am

COUNTERSPIN - Tuesdays 2:00pm

DENISE McCOY SHOW

DISTORTED NATION RADIO - Fridays 12:00am - 2:00am

DOUG GRAVES SHOW

EBB AND FLOW

ECONOMIC UPDATE - Tuesdays 4:00pm

EDM - ELECTRIC DANCE MUSIC Fridays 6:00pm

EN ASTROLOGY
F - G - H - I - J
FIRST LADY POV

FOOD TALK - Fridays 8:00am - 10:00am

GLOBAL CAFE - Saturdays 6:00pm - 8:00pm

GOD NETWORK RADIO - Sundays 4:00pm - 5:00pm

GUMBO MIX MUSIC SHOW -

HERE'S A WORD -

JAZZ AND BEYOND - Thursdays 9:00pm - 11:00pm

JAZZ ON

FANS RADIO SHOW -
K - L - M - N - O
LA RAZZA SOUL KITCHEN

LATIN PERSPECTIVE - Hosted by Leon Reyes

(Salsa and Latin Jazz)
Celebrating 10 years with Access Sacramento, the 2007 Award Winning "Program Producer of the Year", Leon takes his listeners around the world for salsa and Latin Jazz to "spice up your music listening life, and march to the beat of a different Conguero".

Mondays 6:00 – 8:00pm

LAW AND DISORDER - Tuesdays 12:00pm

LIVING THE LIFE - Saturdays 6:00am

LOUD AND CLEAR

MAKING CONTACT - Wednesdays 1:00pm

MUSIC ALTERNATIVE - Wednesdays 6:00pm

OPEN EARS -
P - Q - R - S - T
PANORAMA - Thursdays 10:00am

PEN TO PAGE - Sundays 8:00pm - 9:00pm

PRIMETIME RADIO - Mondays 1:00pm - 2:00pm

RADIO ECOSHOCK - Tuesdays 1:00pm

SACRAMENTO COUNTY BOARD OF SUPERVISORS - Tuesdays 9:00am - 12:00pm

SACRAMENTO CITY COUNCIL - Tuesdays 6:00pm - 9:00pm

SACRAMENTO ITALIAN STYLE - Sundays 12:00pm - 2:00pm

SACRAMENTO AIRS - Hosted by Charlene Jones (Public Affairs)
With news, commentary and in-depth interviews, Sacramento AIRS features guests who bring insight to what matters in our communities. Progressive perspectives on local, state and national issues help inform our decision making and encourage activism for a better future.

The program features Sacramentans with diverse backgrounds, women, and the LGBTQ community to counter a lack of representation in mainstream media discourse. Sacramento AIRS strives to expand inquiry and dialogue so essential to the health of our multi-cultured democracy. We also have fun! Please join us. Produced and hosted by Charlene Jones.
Listen, Learn, Enjoy! www.facebook.com/SacramentoAIRS/

Thursdays 5pm – 6:00pm

SAY LA V - Hosted by Todd Boyd (Alt News and Commentary)
Listen to the latest alternative not alt right-news and commentary.

Mondays 6am – 7:00am

(Americana Music)
The show, named after John Sieger's classic Milwaukee band, examines the roots of music, wide ranging and always growing. These roots include country, no depression, Brit-pop, new wave, old wave, blues, folk, bluegrass, soul, jazz and "whatever else I can dig out of the 99 cent bin". Paul has been broadcasting for Access Sacramento since 2000 and is an annual participant in SXSW in Austin, TX and Hardly Strictly Bluegrass in San Francisco. semitwang@yahoo.com or www.myspace.com/semitwang
Thursdays 6:00-8:00pm

SHANE'S WORLD - Sunday's 12:00am - 2:00am

SHO NUF SHOW - Fridays 8:00pm

SPANISH FLY FLASHBACKS

SPENDING TIME WITH ERVIN - Sundays 10:00pm - 12:00am

SMOOTH JAZZ RADIO

TD TV AND RADIO SHOW - Saturdays 7:00am

THE CLIMATE CHANGE REPORT - Thursdays 5:00pm - 6:00pm

THE DONNIE AND MARK SHOW - Hosted by Don Henkle and Mark Pessano

(Music & Comedy)
The Donnie & Mark Show brings something fresh and new to the airwaves of Sacramento! From a very diverse mix of music to banter and comedy. You never know what to expect and you are sure to hear some great tunes and lost treasures!

Wednesdays 9pm – 10pm

THE GUMBO MIX MUSIC SHOW - Fridays 4:00pm - 6:00pm

THE GROOVE - Saturdays 12:00pm

THE JESUS SHOW

THE LEAGUE OF MUSICAL DETECTORISTS - Hosted by Commander William Fuller

(Eclectic Music)
Every Wednesday from 4-6 p.m., the League of Musical Detectorists meets in Dada Hall to share recent discoveries. Join Commander William Fuller and his band of retro bates, scofflaws and lost souls as they present their weekly finds, ranging from jazz to heart-breaking vocalists to rock and punk and journeys through time and space. Membership is open to anyone who has shed all musical barriers and boundaries; hope to see you there.

League of Musical Detectorists (from left) Minister of Propaganda Turk Murdock, Treasurer Barbara Bohayno, Secretary Connie Bartholomew, President and Commander William Fuller, and Attaché Glenda Garbo

Wednesdays 4pm – 6pm

THE PATRIOT SHOW -

THE SMILES SHOW - Hosted by Jim Hewlett "Jimmy Smiles"

(Oldies music)
Let's have fun looking back at the songs of yesteryear! The Smiles Show features various themes, including women in rock, songs that topped the chart in a particular month and year, songs from A to Z, and lots more! We also talk about the stories behind the songs, and how they came to be. Join me for a fun and educational time each Wednesday from 2 to 4pm, on the Voice of Sacramento, 96.5 LPFM, and KUBU!

Wednesdays 2pm – 4pm

THE T.L. SHOW - Hosted by Tara Lee

(Gospel Music)
Join Tara Lee as she entertains you with her favorite throwback Gospel Music. Tara Lee will share some local gospel artists on air for your enjoyment. Join her for Interviews and discussion of local events and local news.

Sundays 9pm – 10pm

TWIRL - Saturdays 4:00pm - 6:00pm

TWO PSYCHIC CHICKS - Wednesdays 6:00pm - 8:00pm
U - V - W - X - Y - Z
VICTORY IS YOURS - Saturdays 9:00am

WE ARE ONE

WHAT'S GOING ON JULIE - Thursdays 8:00pm- 9:00pm

(Local Writers)
A program Todd produces that records local writers presenting their work. "Writers on the Air" is also found at
www.writersontheair.com

Mondays 7am – 8am