California Women Suffrage Centennial 1911-2011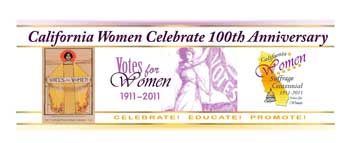 California Women Celebrate 100th Anniversary
Votes for Women 1911-2011 Celebrate! Educate! Promote!
October 9th and 10th
California was the 6th state to win the vote for women before the National Amendment was passed.
Mutliple events scheduled for the whole family throughout the State Capitol area and the California History Museum.
Exhibits, Film screening, Music, Receptions, Reenactments
For more informatio visit www.ca2011centennial.com
or call 949-230-1169 or 916-435-9760