Purchase Tickets by clicking next to the appropriate date/Event
(Check back here for updated information.)
TICKETS  Thursday, October 3, 2019 - Hall of Fame Retrospective & Youth "My Neighborhood" Showcase
TICKETS  Friday, October 4, 2019 - "A Place Called Sacramento" Hollywood Connection Panel and Party
TICKETS  Saturday, October 5, 2019 - 20th Annual "A Place Called Sacramento" Film Festival
TICKETS  Saturday, October 5, 2019 - "A Place Called Sacramento" Official After Party
---
"A PLACE CALLED SACRAMENTO" FILM RETROSPECTIVE AND YOUTH "MY NEIGHBORHOOD" SHOWCASE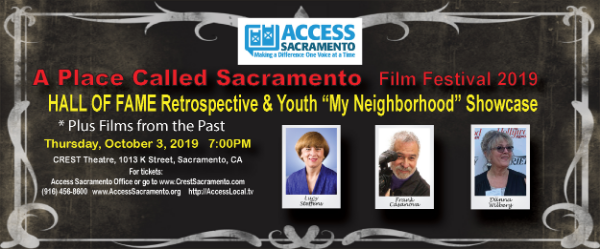 Location:  Crest Theatre, 1013 K Street, Sacramento, CA
Thursday October 3, 2019
Doors: 6:00 PM  -  Show: 7:00 PM
Tickets:  $11 (including facility fee)
---
"A Place Called Sacramento" Hollywood Connection with Special Guests and Silent Auction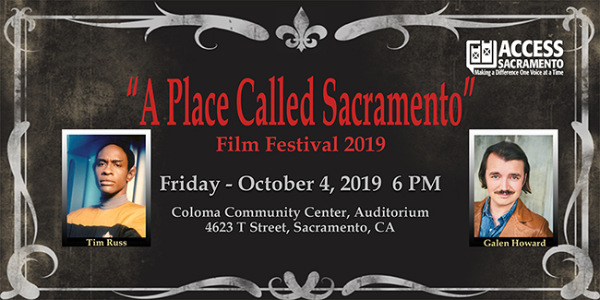 Jennie Church-Cooper
"A Place Called Sacramento" presents filmmakers with Sacramento ties who return to talk about making success in Hollywood.
Access Sacramento welcomes filmmakers with ties to Sacramento who are making it big in Hollywood. Musician, director, producer, writer and actor Tim Russ and actor Galen Howard guest on a panel discussion for the "A Place Called Sacramento" Film Festival's Friday event. Additional panelists and event details to come.
Tickets may also be purchased directly without fees from the Access Sacramento main office. 916-456-8600 ext. 0 for details.
This Roaring 20's theme party celebrates the 20 years of the "A Place Called Sacramento" Film Festival. Dancers from the Sactown Swings will give an opening performance that will having you swinging away. There will be art, music, small bites and Silent Auction items that will be listed soon. There is more to come so don't wait, tickets are limited and this event will sell out fast.
Dress to be seen. This panel will be televised by Access Sacramento.
For more than 30 years, Tim Russ has been working in the entertainment industry. He is Actor, Musician, Producer, Writer and Director. His film credits include: "Live Free or Die Hard," Spaceballs," "Star Trek: Generations," and TV series regular roles on "The Highwayman," "The People Next Door," Star Trek-Voyager," "Samantha Who," and "iCarly."
Galen Howard is a Northern Californian native who has worked in the entertainment business in a wide range of mediums, genres and characters. Through his work he has gained popularity and visibility through craft working in music videos with such artists as Weezer, Justin Timberlake, Smashing Pumpkins and Elle King. He has appeared on the television programs "Agents of S.H.I.E.L.D.," "Brooklyn Nine-Nine," and "Henry Danger." Feature film credits include "Saving Flora." "Children of Sorrow," and the upcoming "Moon Manor."
Date/Time:  Friday, October 4, 2019 from 6:00 PM – 9:00 PM PDT
Location:  Coloma Community Center Auditorium, 4623 T Street, Sacramento, CA 95819
REFUND POLICY: Contact the organizer to request a refund.  Eventbrite's fee is nonrefundable.
---
Access Sacramento Production 20th Annual "A Place Called Sacramento" Film Festival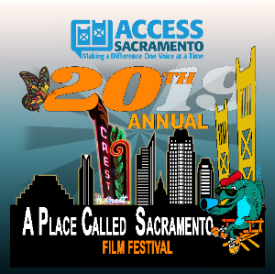 Location:  Crest Theatre, 1013 K Street, Sacramento, CA
When:  Saturday Oct 5, 2019     
Doors: 6:00 PM - Show: 7:00 PM
$16 (including facility fee)
20TH ANNUAL "A PLACE CALLED SACRAMENTO" FILM FESTIVAL
Invite your family, friends and strangers you want to impress! It's a great show about a great Place Called - Sacramento! General Admission seating – "A Place Called Sacramento" also acts as a fundraiser for local community media. All productions are family friendly films, suitable for children 12 and older.

2019 "A Place Called Sacramento" - Ten Selected Film Projects

World Premiere October 5, 2019 – 7 pm – Crest Theatre
"By Any Other Name" by Leonard Feldman - Sacramento claims a civil rights victory when two courageous school workers tackle the system to remove a historically racist name from a local public school.
"ChefNSacramento " by Samantha K. Henderson - Many dads will do almost anything to help out their kid, but one Sacramento father may find he can only really help his daughter by doing exactly what he already does best.
"Crème Brûlée" by Judi Price - Will an insecure woman realize the value of true love when she's caught lying to the woman of her dreams?
"Emma" by Robert Norwood - A man accidentally meets the woman of his dreams at a Sacramento coffee shop, but an unlikely cancer diagnosis threatens their future together.
"Empty Nest" by M.L. Hamilton - Natalie always knew her daughter would one day leave Sacramento for college, but she never dreamed she'd have so many feelings about being an "empty nester."
"Family Love" by Kimberly Spears - After the sudden death of their mother, Katelyn and her young siblings battle adversity in hopes "Family Love" will be the force that keeps them together.
"Flight of the Heron" by Olivia Reedy & Todd Bull - A young Chinese-American med student is transported back in time to historic Sacramento, but things get even more complicated when she must convince her ancestor to defy a Chinese immigration ban and smuggle his wife into the U.S.
"Funny Money " by Trey Van Dyke & Christina Castro - They say laughter is the best medicine, but is it the cure to a better life?
"Oedipus Weeps" by Amy Lawrence - For many people, writer's block is a minor inconvenience, for Ben it may prove to be fatal.
"Passages" by Vert Wright & David H. Perez, Jr. - When Rose's mind descends into confusion, can the love of her children protect her from the ravages of time?
---
"A Place Called Sacramento" Official After Party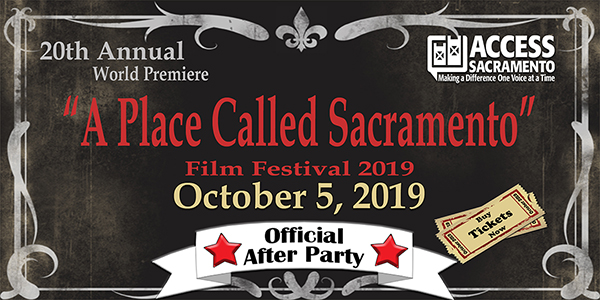 After the movies and awards, walk across the street from the historical Crest Theatre for the "Official" After Party in the 20th annual "A Place Called Sacramento" Film Festival.
Music, dancing and socializing with the filmmakers, actors and crew members.
Price includes discounted entrance (cover charge) to the Social Nightclub and two drink tickets (well-drinks, beer or wine).
Date/Time:  Saturday, October 5, 2019, 9:00 PM - Sunday, October 6, 2019, 1:30 AM PDT
Location:  Social Nightclub, 1000 K Street, Sacramento, CA 95814
Bring your Tickets and Legal ID as you must be 21 years old.
DRESS CODE: Dress to Impress - Up-scale
Social Nightclub RESTRICTIONS: No sports attire including hats, no tennis shoes, no oversized clothing, no sweat pants, no baggy or saggy pants, no shredded jeans, no boots, no In-and-Out Entry.
NO REFUNDS
For more information, call Access Sacramento 916-456-860.