TV Show Producer_Multi-Cam Studio Director & Instructor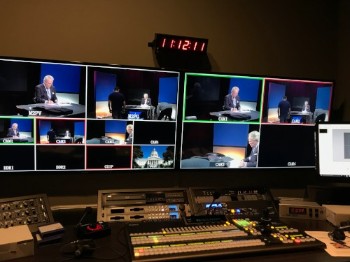 | | |
| --- | --- |
| Office: | TV Studio Producer/Multi-Cam Studio Director & Instructor |
| Department: | Production |
| Reports to: | Director of Production & Training |
| Hours Offered: | Part-Time with Benefits / On-Call / Up to 32 hours a week / Evenings & weekends may be required |
| Schedule: | Entry Level |
| Deadline: | Monday, June 26, 2018 by 6:00pm |
Job Starts: July, 2018 depending on availability  
Job Description:
Access Sacramento, a non-profit foundation operating community media broadcasting on cable, radio and the internet, is seeking a TV Show producer and multi-cam studio director and instructor with the ability to coordinate content and crew for live or taped in-house show production or for remote off-site events and to teach studio production in our state of the art High Definition Studio.
We are looking for a TV Show Producer/Director with good people skills who can facilitate both paid and volunteer crews, and with an ability to help community members envision and implement television coverage of on site or remote production for television shows possibly including Hometown TV, Game of the Week and in-house events. Other duties include working as crew on Access Sacramento produced programming.
Access Sacramento operates a TV and radio studio and digital media lab, remote HD production truck and provides both low-cost training and equipment resources for residents of Sacramento County.  Access Sacramento has a commitment to supporting free speech and providing opportunity for the community to have a platform to share its messages by "Making a Difference, One Voice at a Time.
Job Responsibilities:
 Works with community volunteers and staff members to implement live and taped television production.
 Coordinates crew assignments, location assessment, production design, and oversees production implementation.
Calls/directs crew for live-show remote and in-studio television programming for Live or Recorded programs in-studio or for field production.
Instructor for multi-camera TV studio production classes and others as assigned.
Creates instructional materials in support of scheduled workshops or classes as assigned.
Presents operational instructions in proper equipment use in TV studio or field operations.
Ensures appropriate understanding by members and students in all safety processes and procedures in equipment and facility use.
Assists individuals and groups in the design of their productions including producing and directing, scripting, audio and lighting, editing camera operations, graphics, etc.
Actively assists beginning or newly trained groups/individuals by offering advice or playing an active role in productions.
Meets deadlines for all production stages including pre-production for the collection of graphic data, logos, and other production elements
Facilitates program design to meet post-production, editing and distribution deadlines.
Assists as needed with checkout of equipment, monitoring of members and equipment use in the TV Studio and other locations.
Can work independently and communicates effectively by e-mail, phone and in-person.
Additional duties as assigned.
Qualifications:
An Associate of Arts Degree (or college training equivalent) and six months to one-year of related experience, or a combination of both skills.  Language, Math and Computer skills and the ability to apply common sense understanding to carry out instructions in written, spoken or diagram form.  A Current driver's license and proof of Auto Insurance required.
Additional Skills will be considered:
Background in non-linear computer video editing, live-show directing, basic Adobe Photoshop use, experience in basic crew functions including technical directing, audio, camera and character generation.
HOW AND WHERE TO APPLY
Applicants must submit:
(1) A detailed letter of introduction (describing the degree to which their experience, knowledge and skills match the identified duties and responsibilities, minimum employment standards and requirements, and desirable qualifications of this position, and specify starting salary requirements);
(2) A current resume;
(3) A complete, signed Access Sacramento Job application 
Submit application materials described above as PDF Format Documents in an e-mail message to jobs@AccessSacramento.org  Materials may also be delivered or mailed to: Access Sacramento, ATTN: Job Application, 4623 T. Street, Suite A, Sacramento, CA 95819
For more information contact:

Gary Martin, Executive Director

Access Sacramento

(916) 456-8600 ext. 100