On Camera Kids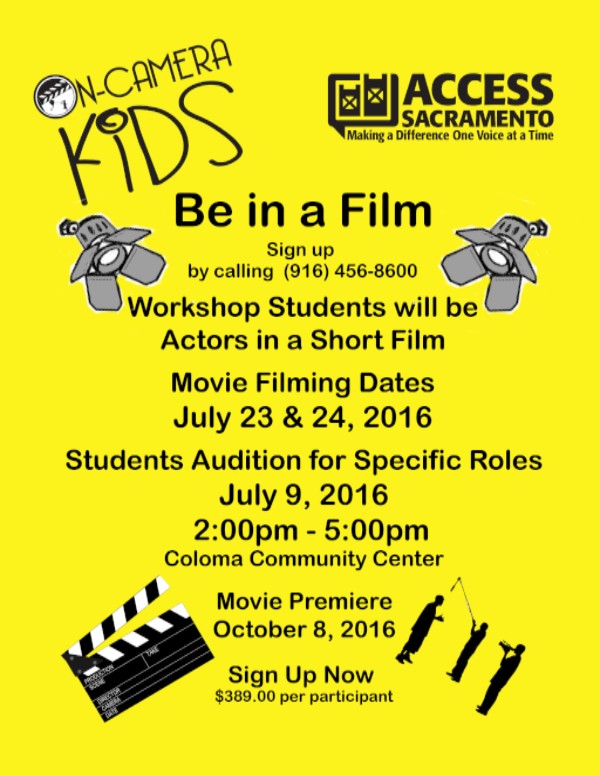 Access Sacramento, Sacramento Casting and Next Rung Productions present:
"On-Camera Kids"
A youth acting education experience
Real Production , real crew, real opportunity
Professional paying TV and film acting jobs  want child actors with experience, but it's very difficult to find the right opportunity to gain credible experience, and that's what the "On-Camera Kids" project is all about. To discover the world of professional filming, register now and get ready for lights, camera, action!
Accepting a maximum of fifteen (15) participants ages five to seventeen (5-17).
Note: Maximum of five participants under the age of ten (10) will be accepted. For all children under the age of ten (10) a parent or legal guardian must join them on-set. Please call (916) 456-8600 with any questions.
Participating young actors will:
Audition
All students will audition. Every audition will be taped and available to share and each student will be provided written feedback on their audition by a casting professional.
Be Given a Role
The production team will determine which role is best for each actor, but every actor will have a speaking part.
Attend a Table Read
Every actor will participate in the table read for the short film. This will help ensure everyone knows what is expected of them during the shoot.
Be on a Film Set to Shoot Their Role (Filming July 23 & 24, 2016)
Learn about set protocol, terminology and more about the filmmaking process.
Go through on set pre-filming preparation like hair & makeup, wardrobe review and more.
Train with professional direction and guidance to portray their role.
Have the Opportunity to Attend Their Films Big-Screen Premiere
Film will premiere as part of Access Sacramento's 17th annual "A Place Called Sacramento" film-festival, October 8, 2016 - 7pm at the Crest.
Tickets to this event will need to be purchased separately.
Be Given IMDB Credit for Their Part
Each student will be given actor credit on the official IMDB page for the film.
Even though the production is part of an educational experience, it is being professionally directed and produced by an established production company so it will NOT be listed as a student film on IMDB, nor will it need to be listed as such on the child actor's resume. 
Receive the Digital Copy of Their Part
Each student will receive a DVD copy of their part in the film to be used for their reel.
Please Note:
The goal of the end product will be to submit the short-film to additional local and national film festivals, and the participants will all be best served by being cast in the right role for them and the overall production. Size of speaking role not guaranteed.
Each child will be sent a call sheet 24-48 hours prior to filming. All are expected to be on set at their assigned call time on their assigned day(s). Multiple days may be required.
The production will be professionally directed and shot by an experienced and professional director of photography. Some of the production crew may be students. 
On-set time may range from a couple of hours up to six (not including lunch) per day.
Lunch and snacks on-set will be provided by the production.
Parent of those under the age of ten (10) will be required to be in attendance at all related events including audition, table read and filming.