Cinema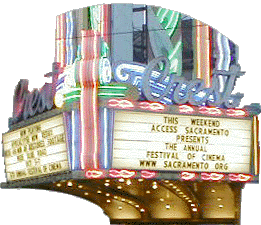 "A Place Called Sacramento 2005"
World Premiere of Ten Local Films
Twentieth Year Celebration of Access Sacramento Community Media
Sunday October 2, 2005
Crest Theatre 1013 K Street
Doors Open Noon … Show begins 1:00 – 3:00 PM
Anniversary Party 3-5:00 PM
Raffle Prizes … Special "Treats" … Entertainment
Tickets $10 each (fund raising event for Access Sacramento)are available at www.tickets.com
Each year since 2000, Access Sacramento organizes the production of ten, original, ten-minute films featuring actors and production crews from all over the region. Access Sacramento originated the concept of creating local production teams and using their volunteer efforts to "build" the local film community. "PCS" accomplishments include:
Fund raising event for Access Sacramento Community Media, a 501(c)3 NPO
Premiere of ten, family friendly, "A Place Called Sacramento" films (PCS)
Honors local scriptwriters, local production teams, and local actors
Celebrates 20 years of community media training for Access Sacramento
Highlights the "PCS" filmmaking community for the 6th consecutive year
48 PCS films have been created and premiered at the CREST since 2000
For the sixth year, "A Place Called Sacramento" films will be premiered as the culmination of our scriptwriting project for local writers. We challenge them to write short, family friendly scripts about the people, places, and events that make our community such a unique place to live. Local experts picked ten scripts, which have been produced over the Summer by volunteer production teams, and showcased at the CREST Theater on October 2. Special raffle prizes, food and entertainment will make the day fun for all ages. Come and enjoy the best in local film production. Help grow our film community and celebrate our 20th year by joining your friends at the Crest, October 2, 2005.
Contact: Ron Cooper, Executive Director
(916) 456-8600 #112
www.accesssacramento.org
Access Sacramento
4623 T Street, Suite A
Sacramento, CA. 95819
"I Love Sacramento" by Carolyn Reuben
A video love affair with a city, featuring a soundtrack by song-writers Nadia Fay and
Kit Loose.
"Wisecracks" (the short) by Renee Michaels
Busy, bubbly and brash… a Sacramento book group "reflects" on life. Question: Are they reading the selected books or each other?
"Hitchhiker" by Donya Wicken
An unusual hitchhiker meets a mysterious woman who convinces him his destiny awaits at the Sacramento Shriner's Children's Hospital.
"Stardust: Path to Music Circus" by Mark Hoffman
A young boy is introduced to Music Circus and grows up with music in his soul and in the lives of his children.
"Steve's Reprieve" by Kyle Crawford
All Steve wants in life is to make a movie and get a down-to-earth girlfriend. This week, he may do both.
"The Visitors" by Sharon Scrivner & Zeba Hone
Parents are outraged when a single mother moves to downtown Sacramento from Rocklin. They expect the worst and worry for her well-being in the big city.
"The Apartment" by Clint Fleener
A couple's love for each other is tested when they discover their new apartment is the "center of the universe".
"The Good Death" by Michal Poe
Follow Jill, a hospice nurse, through her busy day… a day full of challenges and emotional surprises.
"A Delta Rhapsody" by Joyce Glover
Three strangers have a chance meeting and sharing in great music.
"If The Walls Could Talk…" by Jamila Crockett
Jessie moves to Sacramento in search of meaning and purpose and learns valuable lessons from unlikely "sources".