November 2016 - "Show Us Your Shorts"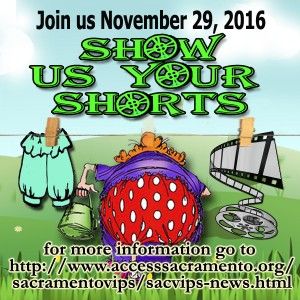 "Show Us Your Shorts" was a great success. If you missed the great talent we have here in Sacramento you can still see some of the clips by clicking the links below.
Thanks to all or you who shared your clips with the group and to those who are allowing us to share them on our page:
"Remember the Fallen" by Mike Stahl   https://www.youtube.com/watch?v=epUI_J9H2VE
Aaron Michael Leong shared  https://vimeo.com/19959732
"Afternoon Delight"  by Danna Wilberg  http://accesslocal.tv/2016/12/12/afternoon-delight-2016-a-place-called-sacramento-film-festival/ 
"The Last Laugh" by Darrell Scheidegger  http://accesslocal.tv/2016/12/12/pcs-2016-the-last-laugh/
"Happy Accidents" by Nick Coleman  http://accesslocal.tv/?s=happy+accidents
"Returning Andrew" by Brian Jagger http://accesslocal.tv/?s=returning+andrew
What a wonderful showing of support from all of you who made it to the event for our Annual "Show Us Your Shorts". Thanks to all the filmmakers who submitted their footage to share with the group. There is such a great amount of talent here in Sacramento and we were happy to be able to showcase some of the films.
We will be sharing links soon to the clips that are not in film festivals for you to view if you missed the event.
Thanks again to the SacVIPs Board for putting this on again. Happy Holidays to all of you! 
September 2016 Special Guest - Access Sacramento & Panasonic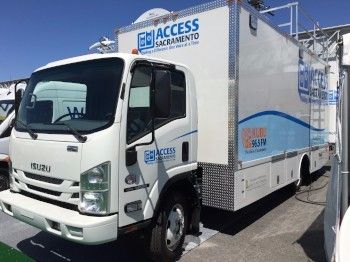 Sac VIPs is proud to showcase Access Sacramento's new HDTV remote production truck the the September meeting. With funding from the cable commission, Access Sacramento's Hometown TV and Game of the Week events are looking better than ever.
You can check out the audio booth and the video control room with it's For-A switcher, Newtek 3-Play instant replay, Compix character generator and Panasonic 3800 cameras. Access Sacramento Executive Director Gary Martin will talk about how to get your non-profit event recorded for cable tv for free using an easy grant application.Plus, find out about HD expansion plans for the full Access Sacramento facility.
Find out how the content you're creating already can get an even wider audience.
For more information, contact Access Sacramento at 916-456-8600 or visit at AccessSacramento.org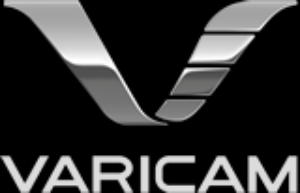 Panasonic is excited to introduce the new VariCam LT Cinema Camcorder AU-V35LT1. The VariCam LT uses the same award winning Super 35 imaging sensor as the full sized VariCam 35 digital cinema camera, but in a much smaller package, weighing less than 6.2 lbs (body only). Having the same sensor as the larger flagship model, the VariCam LT boasts the same dual native ISO settings of 800 and 5000 and offers the same 14+ stops of dynamic range. The LT comes equipped with an EF lens mount for use with lower cost, light weight lenses. A PL replacement mount is offered as an accessory for use with more traditional cinema style lenses.
August 2016 - Special Guest - Bret Allen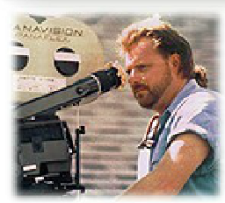 The Camera in Motion
Bret Allen will be sharing the importance of moving the camera to give the illusion of a 3D space with a 2D medium; handheld, dollies, Steadicams, jibs and Shopping carts.
Bret will bring a smaller Steadicam (like) stabilizer, a homemade "table top" dolly, demonstrate how to "dance" with a handheld camera and discuss how to improvise dolly shots with what's availible; a blanket, office chair or a shopping cart. Bret will share some video examples of moving camera shots and discuss world peace.
Bio:
Raised near Sacramento, California, Allen pursued a career in film and mastered the art of cinematography and production. Allen's nearly thirty year career has given him experience in almost every aspect of film, video and post production. Allen has worked with and learned from some of the most talented people in the industry. Allen's career spans features, episodes, national spots and "reality".
Among his skills as a cinematographer Allen is an accomplished STEADICAM, Crane, Jimmy Jib and Camera Operator in HD, 16 and 35mm film and video. With photographic skills in macro/micro, aerial and still photography.
Allen is a member of the Society of Camera Operators (S.O.C.)
Check out Bret Allen's website at http://www.filmtoys.tv/ 
Bret's IMDB info http://www.imdb.com/name/nm0020326/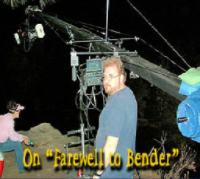 ---
July 2016 - Special Guest - Alex Wilkinson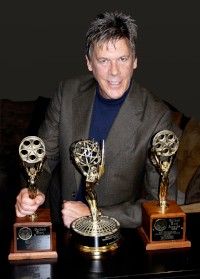 What it takes To Compose for Film and Television
If you are a Producer, Director or music composer of any level Alex Wilkinson will have some insight to share with you. Maybe this will help you decide how to add music cues to a scene or music to your television show. This may even help you understand what you are really looking for from a music editor or music composer. 
Alex Wilkinson has composed music and is a music editor for many films over the years'. Alex will be sharing some of his expertise on how one may become a composer for film and television. Alex will then give you a glance at how one creates a filmscore creatively.  
Sometimes a composer may think what he or she has composed is brilliant, and it may very well be, but maybe the director had something way different in mind and it takes a strength and confidence as well as an open mind to meet the music needs of a film. Alex will share with you some tips on how to deal with rejection in the film music biz.
Alex will bring up a clip of the same film, one with music and one without so people can see how that works. Join us to learn about this important piece of Film and Television.
Bio:
Composer Alex Wilkinson has composed music and has been a music editor on over 250 films, television shows, episodes and has been honored with an Emmy Award, two Golden Reel Awards and 7 nominations. Alex has composed music for Hallmark, Disney, MGM, New Line, Artisan, MTV and more.

Alex began film scoring on Paramount Television's syndicated series, "The Untouchables", Disney's "Goof Troop", "Bonkers"and "Disney's Aladdin" followed by "Man's Best Friend", directed by John Lafia, starring Ali Sheedy. His lush, melodic orchestral style soon led to further opportunities including the MGM feature, "American Dragon", "Avalanche" and television series "LA Heat", "Hollywood Safari" "Stargate SG-1", "Monkey Magic", "Sponge Bob" video game and more. Alex maintains a Pro Tools state of the art studio. 

Alex Wilkinson formally studied music composition and orchestration with Antonio Newton. He honed his skills working as an asst. engineer at the prestigious Record Plant recording studio where he worked with Fleetwood Mac, Dan Fogelberg, The Allman Bros., John Fogarty, The Tubes and more. 
Check out Alex Wilkinson's website at http://vmimusic.com/
Alex's IMDB info http://www.imdb.com/name/nm0929333/
---
June 2016
Special Movie Night:
Our guest speaker for the month of June was Bret Allen but due to the fires near his home Bret was not able to join us. We are working to add him to our calendar in the near future so keep track on our newsletter.
Due to the short notice we did a training on various tips and call signs for everyone involved in a film or television show. The response was good from our members and decided to do another one like this in the near future.
Note: 
Sorry for the confusion. Bret Allen was unable to join us in June due to the fires near his home. We wish him well and safety. Hope to re-schedule to have him join us in the near future. Watch for upcoming guests.
Thank you to all who support Sacramento VIPs!
---
May 2016 Guest - Andrew Hughan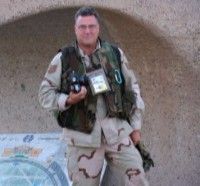 Andrew Hughanwill talk to you about the legal and safety issues of drone operations. This will include what you can and can't do and the realities of drone operation in today's world. Great information for anyone who uses a drone or is thinking of getting one. 
Bio:
Andrew Hughan is the Public Information Officer for the California Department of Fish and Wildlife, Hughan's responsibilities there include responding to media and public phone calls and requests for information, writing news releases and articles for publication, managing the departments social media campaigns and making presentations about the department. 
 
Hughan is retired Air Force Combat Photojournalist who served more than 24 years in uniform in assignments around the world covering and photographing military operations. He served in more than a dozen countries and deployed on a combat tour in Iraq in 2004 and Afghanistan in 2009.
For the past several years Hughan has been piloting remote controlled aircraft for personal use and is on the development team for the the use of aircraft in the department of fish and wildlife. 
---
April 2016 Guest - Jonathan Morken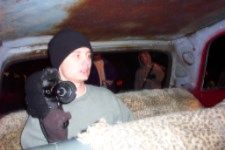 DISTRIBUTION
Jonathan Morken, Producer of Marketing and Distribution, will be discussing indie film distribution in the digital age. Gone are the days of DVD and video stores, the market is over-saturated with content and video games have passed up the movie business as the king of entertainment spending. So how do you beat the odds and get your indie film to stand out?
Bio:
Morken started working in Film and Television in 1997. Morken got my original training in live television production and educational programming. Living just outside the capital city of California there is a lot of government financed educational film and television work, that is where he spent his professional hours in the beginning. On the side Morken started directing short films and music videos.
 In 2006, Morken formed the distribution arm of his production company, Apprehensive Films. Since then, Morken distributed more than 50 feature films, produced two feature documentaries and two feature stand-up comedy specials. One of the main highlights of his catalog has been handling the multiple re-releases of Hardware Wars, the original Star Wars Parody from 1977.
 With the decline in the home video market over the last few years, Morken's goal has been to focus on just a few films and build their audience from the beginning. Gone are the days of vast catalogs of small indie films. Currently Morken is the PMD (Producer of Marketing and Distribution) on the feature film MAMABOY, which he has been building up their audience since before he started shooting. They just launched the teaser trailer a few weeks ago and have already broken a quarter million views across the different trailer channels.  
To see some of Jonathan's work got to his facebook page:  https://www.facebook.com/afcinema
---
March 2016 Guest - Dan Janos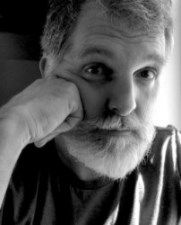 Third Time Around Re-Finding the Story in Post
Dan Janos will focus on documentary post-production in general and how discoveries in the post process can alter the story being told. Using case-studies from his own projects and others, Dan will tease out the turning points where a films direction was changed irrevocably (for better or worse!). Editing techniques around organization, communication, and workflow will be touched on as well.
Bio:
Dan Janos is a filmmaker, musician, and educator.
His documentary and short film projects have been seen on the Sundance Channel, Free Speech TV, and WHYY in Philadelphia. Festival screenings include; South by Southwest, The London Gay and Lesbian Film Fest, Williamsburg Intl., and over 100 other festivals here and abroad.
As a freelance producer and editor, his clients include; Yahoo, Current TV, Google, Young and Rubicam, Goodby Silverstein and Partners, and Amazon.
His band, The Goat Family, has been performing throughout the Bay Area for the last 10 years at venues big and small including the San Francisco Museum of Modern Art and at the 50-year anniversary for Canyon Cinema. The Goat Family often enrich their music shows with live projection of experimental films made by members of the group and others.
After living and working in the Bay Area for the past 25 years, Dan has recently relocated to Sacramento where is he is a Professor at Sacramento State. He teaches film production, editing, and motion graphics and works directly with Seniors to bring their thesis films to fruition.
To see some of Dan's work got to his website:  http://www.danjanos.com/
---
February 2016 Guest Speaker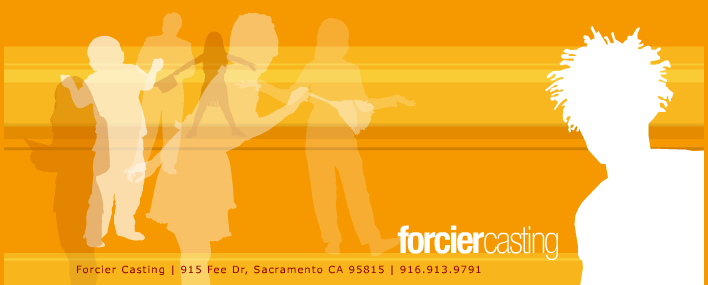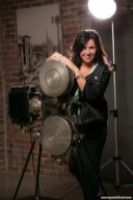 Understanding the Audition Process
Sally Forcier started as a talent, acting in several commercials, films, voice overs, print and PSAs.  She fell in love with the industry and found helping others to be rewarding after working at a local talent agency.  She started Forcier Casting over 16 1/2 years ago.. First with consultations, then casting, then producing and directing.  Consultations were in high demand and rewarding as it was fulfilling to see others achieve their dreams.  She became one of the most sought out instructors in the Sacramento valley, teaching how to understand the audition process, acting techniques and how to ace the auditions and  book the job.
Her casting projects include everything from local commercials, independent films to major brands and motion pictures. Her producing passion soon followed and was a natural next step for her. She produced and directed the California Lottery TV Game show for over 2 years airing in 9 markets across the state. Currently producing a digital series American Ruckus. Her love of family and the Sacramento area has kept her in local, as she believes the industry here can thrive with all the talented and crew right her at home. 
To learn more go to Forcier Casting website http://www.forciercasting.com
---
January 2016 Guest - Matt Baker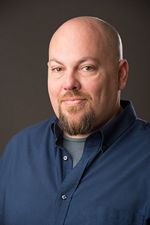 Bio
Matt Baker was born in 1972, saw Star Wars at age five and was never the same again. Age 12 found him in advanced classes at Sac State for physics, speed reading and video production, so starting a video production company fresh out of high school seemed nothing out of the ordinary. In 1992, Jurassic Park became the newest catalyst, spurring Matt to study computer animation; he attended the Art Institute of Seattle, then earned his degree with honors at  Collins College for Computer Animation. Since then, Matt has worked on numerous commercials, music videos and feature films, and received numerous awards at the Sacramento Film and Music Festival for the past several years and most recently Best Film at the CFAA's Creative Interpretations Film Challenge II.
To watch Matt's film click on the below link to Rain...
https://www.youtube.com/watch?v=g_isF35I4gw 
---