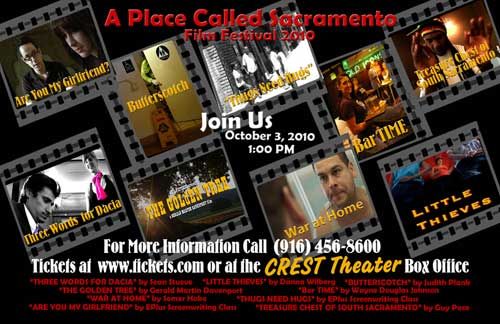 To see the video click on the Film Title(Windows Media Player required) or go to YouTube

"Butterscotch"
&nbsp by by Judith Plank
Max searches for home after ten years "away". To help his buddy, Ernie rekindles their lost friendship. But life is unpredictable as Ernie painfully discovers with Max's help - not black and white but Butterscotch.
"The Golden Tree" &nbsp by Gerald Martin Davenport
A story about a father and daughter and their discovery about their historic relatives during the Sacramento gold rush.

"Little Thieves" &nbsp by Danna Wilberg
The twins are convinced that Aunt Ida is "weird". Their Mom, a police officer, has mysteries of her own. When the missing pieces are found, little thieves are revealed.

"Treasure Chest of South Sacramento" &nbsp by Guy Pace
Andre hangs with his boys and seems destined for jail or worse. Lucky for him he has the memories of his Dad, the love of his Mom, and the poetry of Yeats to guide him.

"Are You My Girlfriend" &nbsp by E+ Screenwriting Class
Alone and shy, Robert invents a girlfriend – Bernice. But too soon, fantasy and reality collide, confusing his friends and Karen. – ugh - I mean Bernie. Are you my girlfriend?

"Three Words For Dacia" &nbsp by Sean Stueve
Roman Rhodes scours the streets of Sacramentodesperately searching for his lost love, Darcia.If he doesn't find her soon,all will be lost forever.

"War At Home"&nbsp by Somer Hoke
Kyle returns to Sacramento after his tour of duty in Iraq. His fiancée, Jenna and his family try to help him cope with his PTSD. Just after he leaves one field of battle in Iraq, a new foe rears its ugly head.

"BarTIME" &nbsp by Wayne Douglas
Celebbrating his promotion to El Paso at a local bar, Jimmy learns he can't legally take his son out of California. To stay in Sacramento, he must call corporate HQ before 6PM. No Problem, except to get that number back, he has to arm wrestle the Russian champ. The clock shows 5:41PM.

"Thugs Need Hugs" &nbsp by E+ Screenwriting Class
From the tough streets of Oak Park, their music opened doors to a bright future. Still friends writing music after all these years, they invite a new generation to get off the street, join in and sing a new song.