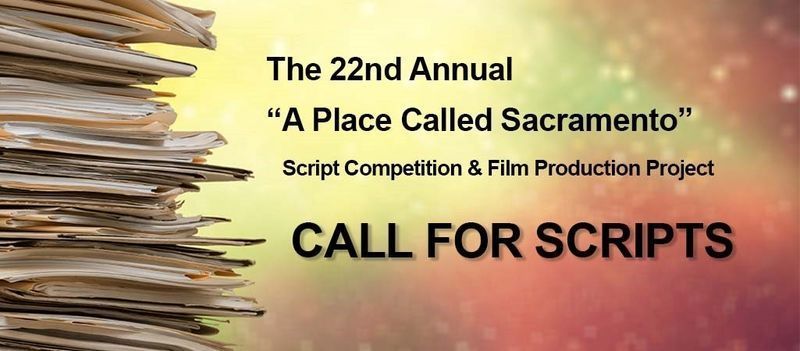 We proudly invite you to participate in the 22nd Access Sacramento "A Place Called Sacramento" (PCS) scriptwriting and short film production project for local writers and producers. PCS challenges local scriptwriters to write ten-minute scripts about the people, places, and events that make our community such a unique place to live. All submitted scripts are reviewed by local professionals, and nine winners are selected.
The nine scriptwriter/producers are then introduced to actors and production teams at
the PCS "Cast and Crew Call" Wednesday, May 4, 2022
(Watch here for info updates)
Production teams are formed and production commences during the summer months. Finally, friends gather at the
Film Premiere at the CREST Theatre
on Friday, October 7, 2022 at 7 pm
Script Submission Deadline:
5 pm at the Access Sacramento office on Tuesday, March 15, 2022
Ready to submit your script?
Start here with competition rules & entry fee.
---
We are offering a few workshops to assist you in the writing and production of your script. Workshops are held on Saturdays in February and March. Some dates & times are to be determined.
To enroll in any of the PCS workshops, call 916.456.8600, ext. 0.
"How to Make A Film" Workshop – Two Saturdays, April 30 & May 7  10 am – 1 pm    
Film production is a team sport! Efficient planning, selecting the right cast and crew, knowing how to pull many schedules together, framing a camera shot, getting great sound and a thousand other questions must be addressed to complete even a short movie.  Come learn this and more.  Open to the public, limited enrollment - $50 Fee. 

"Camera Ready Make-Up Basics" Workshop – Saturday, May 28, 10 am – 2 pm 
Learn tips, tricks and make-up techniques that will have you looking (and feeling) good off- and on-camera.  Instructor Bunny Stewart. Open to the public, limited enrollment - $50 Fee. 

"Acting for the Camera" Workshop – Saturday, June 4, 10 am – 5:30 pm  
9 am – noon classroom training and tips, then 1 pm – 5 pm in the studio for on-camera training and tips from an experienced actor/acting coach, Jason Bortz. Please bring your lunch. Open to the public, limited enrollment - $50 Fee. 
To enroll in any of the PCS workshops, call 916-456-8600 ext. 0. Advance enrollment is required. Limited registration.
Click here to view prior competition winners on our YouTube channel.
In the twenty-one years of hosting the PCS scriptwriting competition, 205 short films have been created. Access Sacramento is a nonprofit that provides the  community with low-cost media tools and training in order to empower all Sacramento County residents to lift their voices.
---